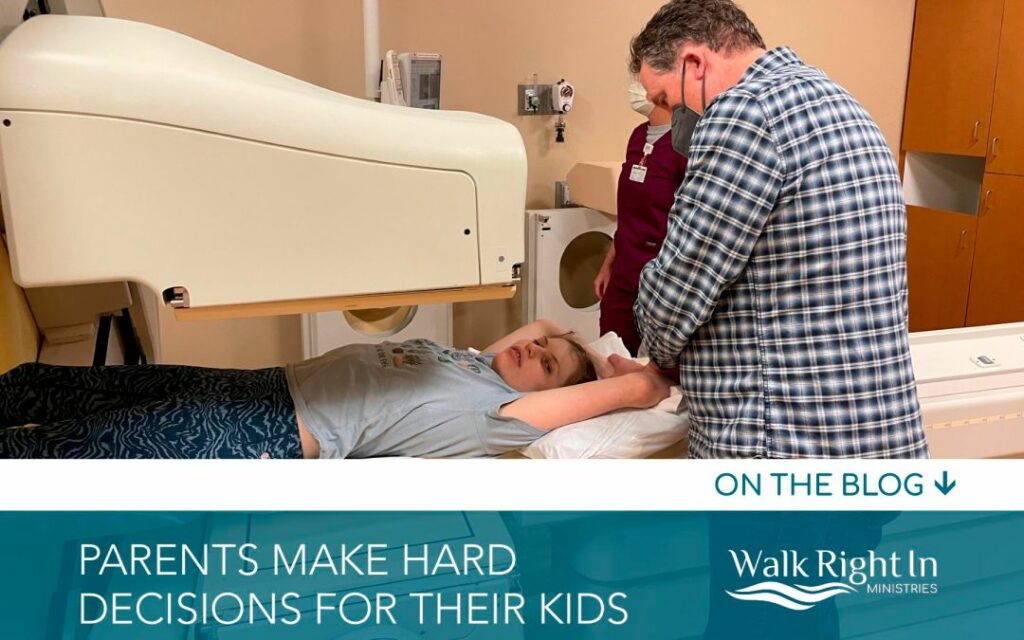 We live in a post Easter world. What mercy! I don't want to imagine being Carly's mom — being any kind of person, in any kind of role — in a world without Jesus, the cross, the empty tomb.
I know that you know what I'm talking about. You don't have to be the parent of someone who is suffering to appreciate the magnitude of what Jesus has done and how desperately we rely on capturing the vision He had in order to endure. And even endure toward JOY.
Hebrews 12:1-3
Therefore, since we are surrounded by such a great cloud of witnesses (see Hebrews 11 for an historic list), let us throw off everything that hinders and the sin that so easily entangles. And let us run with perseverance the race marked out for us, 2 fixing our eyes on Jesus, the pioneer and perfecter of faith. For the joy set before him he endured the cross, scorning its shame, and sat down at the right hand of the throne of God. 3 Consider him who endured such opposition from sinners, so that you will not grow weary and lose heart.
I need that absolute assurance of God's power and love. You see, things like pain, confusion, and fatigue recur frequently in our home. I am utterly reliant on God for help, healing, hope, wisdom, peace — for literally everything. This past week was another good example.
But the examples go way back. Thankfully, the roots of my faith are growing deeper with practice. As I've heard so many older parents of children with special needs say, I've learned what it takes to be more resilient than I used to be. I just wish I could grow like this without so many "practice" drills.
There was a time many years ago when we were implementing a new physical therapy with Carly. She didn't like it. No doubt, she was confused by why she was being moved in uncomfortable positions. We had more than a few conversations about whether the payoff would outweigh potential psychological damage we might inadvertently do by pushing through her resistance. We certainly didn't want to traumatize her.
In the end, it seemed we needed to trust God to help us in two ways. We asked God to cause the therapy to accomplish everything it was intended to do and also protect her from any and all potential negative side effects. We aimed to trust Him for that, and we were really intentional about trying to build Carly's trust in our love for her, even though it might have seemed to her, at times, like we were being cruel.
A loving parent does that all the time. We do hard things for the good of our children. We know it could be years, or never, before they understand why we did what we did.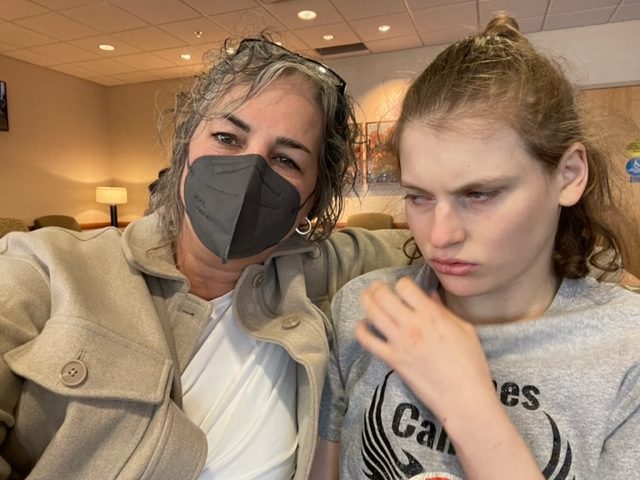 This last week, Carly underwent extensive medical testing for chronic and escalating gastric motility problems. For any average person, the tests would not have been difficult. But for Carly, they were nearly impossible. Getting her through the tests, in some ways, carried high risks (e.g., seizures, bowel blockage, emotional trauma). Given the risks, you might wonder why we pursued the testing at all.
Parenting involves making hard choices on behalf of our child. Sometimes our decisions even cause the child pain. At some point, a parent determines the potential benefits outweigh the potential negative consequences.

Seeing one's child in pain is heartbreaking for a parent. It doesn't matter whether their pain is physical or emotional. Few things are as painful for a parent as seeing their child hurting or threatened and not be able to fix it for them. It's a unique kind of pain when you fear you actually contributed to it.
What kind of pain does God feel when He sees His own children suffering, knowing He can stop it. He is well aware of His intention to allow it. Yet He never allows our pain without great purpose.
In the middle of another sleepless night this week, I was second-guessing a couple of our decisions. One test required us to pause her daily bowel regimen for a week. Surely, she would develop a blockage. We could only pray that it would clear quickly once the testing was done. Another of the tests Carly was having required that we pause all of her critical seizure, sleep and anxiety medications for a full 48 hours. The risks involved in doing that were obviously high. Even as I typed this, Carly had only slept during four of the last eighty hours. (She's back on all of her meds now but it's taking considerable time for her system to reset.)
So, while I was praying through another wits end moment at 3 am on Good Friday morning, I realized that part of my stress and sorrow was coming from the sense of pressure and responsibility I was feeling for what was happening. I had put a lot of energy — or shall we say thought, effort, and emotion — into getting the best possible information and outcomes with the least amount of pain for Carly. And for us. It's a natural response.
I needed a supernatural response.
In that dark bedroom, I searched my memories for any scripture that might comfort and reassure me.
2 Corinthians 10:3-4
For though we live in the world, we do not wage war as the world does. The weapons we fight with are not the weapons of the world. On the contrary, they have divine power to demolish strongholds.
How many of us are well acquainted with fighting with spiritual weaponry. Yet we fail to credit God with power to absolutely demolish strongholds with His wholeness! We need breakthroughs in areas of health, unbelief, false mindsets, health, development, and so much more.
Somewhere between my knowing I'm reliant on God for everything in this messy life and trusting Him implicitly, I still gravitate toward feeling responsible for fixing things — for making the breakthrough happen.
You might say that comes with being a mom. Or you might say that is a lack of trust in God. In my heart, I know that I tend to usurp His authority. And that is sin. Yet He loves me without condemnation (Romans 8:1) and patiently trains me up in the way I should go (Proverbs 22:6).
Sometimes the rough stuff comes because of someone's weakness or sin. Other times, life is troubling and it's just nobody's fault at all. Either way, God uses those things to grow us up in everything from character to perseverance and faith (Romans 5:1-8). If we let Him.
I get a little off sometimes. I put my focus on the discipline rather than on my Father. The resurrected Jesus. He is where the strength is. He is where the peace comes from. Friends, He is why, no matter what, there is joy set before us!
Our circumstances are often a training ground of sorts. Our Almighty Trainer and Coach leads us with authority, wisdom, and exceeding concern for our ultimate wellbeing.
I am thankful God never puts the pressure on me to carry the authority. I am thankful that, no matter what, there is joy. Even at the cross, there was joy!
Some lessons need to be learned, and learned again.
Thank you, Jesus, that You died, and You rose. You did it once. And that was enough. (Romans 6:9-10)
I'll keep coming back to that.
Hebrews 12:7-13
7 Endure hardship as discipline; God is treating you as his children. For what children are not disciplined by their father? 8 If you are not disciplined—and everyone undergoes discipline—then you are not legitimate, not true sons and daughters at all. 9 Moreover, we have all had human fathers who disciplined us, and we respected them for it. How much more should we submit to the Father of spirits and live! 10 They disciplined us for a little while as they thought best; but God disciplines us for our good, in order that we may share in his holiness.

11 No discipline seems pleasant at the time, but painful. Later on, however, it produces a harvest of righteousness and peace for those who have been trained by it.

12 Therefore, strengthen your feeble arms and weak knees. 13 "Make level paths for your feet," so that the lame may not be disabled, but rather healed.
---
Lisa Jamieson is a caregiver consultant, pastoral counsellor and author of popular books and Bible studies including Finding Glory in the Thorns and Jesus, Let's Talk. She leads a weekly online discussion group welcoming caregivers in families living with disability. Lisa and her husband, Larry, are co-founders of Walk Right In Ministries, a non-profit organization building faith and community with special needs families. They live in Minnesota with the youngest of their three grown daughters, Carly, who has Angelman Syndrome.