As co-founders of WRIM, Larry and I have the privilege of introducing Misty Harper-Anderson to you by way of a short video and then a blog interview you can read below. We think you will quickly see why the entire Board and Ministry Team are so pleased and excited to share the WRIM mission, community, and work with her.
Misty joined the Walk Right In Ministries leadership team in late September and we're having a delightful time training and getting to know each other. As Executive Director, Misty is responsible for overseeing day-to-day strategic operations of the ministry, providing supervision for the ministry team, and developing relationships with partners. You will also see her participating in ministry to caregivers.
WRIM is all about community and growing together, one step of faith at a time. You're going to get to know many very special families. We want to know you more too. Tell us about YOU, Misty!
My husband, Bill, and I have been married for a little more than twenty years and have a beautiful "mine, his and ours" family. Our oldest daughter, Sydney, has been married to her husband, Ludwig, since 2020 and they're expecting twin girls later this year – our first grandchildren! They live locally so we see them often. Our son, Jacob, recently moved to Nashville and is loving life there. Our youngest daughter, London, is a sophomore at MNSU Mankato. We are a year into this empty nest season and have mixed reviews. Bill and I enjoy hanging out just the two of us AND absolutely love when we get to be with our children.
Left to right: London, Jacob, Sydney, Ludwig, Misty, and Bill.
We are a community that understands the power of resonance. As the mother of three adult children, you are well acquainted with being a caregiver in that way. But you also understand the world of disability from some unique perspectives. Will you tell WRIM friends how disability has touched your life?
Some of my earliest memories are with my cousin, Ross, who is eight years younger than me. He was born with Angelman's Syndrome. During my teen years, I lived with my aunt and uncle for two summers and spent part of my time with them caring for Ross. I am musical and he loves music, so we are a good pair!
Additionally, my stepmom had a complete left hip disarticulation in February 2018. We have navigated what life is like in this new normal with a physical disability. I'm astounded by her strength and resilience.
Finally, I am an Old and New Testament professor at Bethel University in the BUILD program. It's a two-year certificate program for young adults with intellectual disability. It has, thus far, been the most rewarding experience of my life. I've learned from this groups of students at least as much as they've learned from me.
How do you see God using past life experiences in preparing you for the Executive Director role with WRIM?
Recently, I've been spending time in the Old Testament, specifically, the Torah. And I've been reminded of the significance of remembering. While I don't have the word count in front of me, God, through Moses, uses the language of remembering multiple times throughout that section of Scripture. As I remember and reflect on my own life, I am astounded at God's faithfulness that has brought me to this place in my life.
For the past several years, I've served in pastoral ministry, including a season of church planting. Throughout these experiences, I've come to recognize that I'm both relational/pastoral and administrative. This gifting is something that I've learned to appreciate about how God has wired me.
I believe that this previous season has given me the experience to support Lisa, Larry and this organization by learning to prioritize the needs of ministry – knowing when to schedule time for personal conversation and when to complete tasks. Additionally, the season of church planting placed me in front of people who were open to supporting us financially. I look forward to utilizing that skillset in this ministry context.
Most importantly, throughout my life, God has developed in me, and I would say is still developing, the ability to love people and see their intrinsic value because we are all created in the image of the Triune God.
What excites you about being part of the WRIM team?
As I get to know the people and heart behind the organization, I grow in my excitement about being part of how God is calling WRIM to serve families who are touched by disability.
I hear the excitement in the conversations about God calling WRIM into the next season and the hope of growing in whatever ways God calls us to go. I, too, sense this anticipation and God's invitation to trust him as we seek the Holy Spirit for where and how he is calling us to serve the community, both locally and globally.
In this season of my life, what is most important is that the work I do is fulfilling and impactful. That is what I see as the opportunity as the Executive Director of WRIM. What does it look like to free Lisa to spend more time with clients? What does it look like for me to take meetings with those who feel called to support this ministry financially? What does it look like to follow the Holy Spirit's leading into whatever is next? While we can't know the answers to those questions quite yet, we can be excited about the adventure of living out this calling.
What are one or two fun or surprising things about you that our community might enjoy knowing?
I am a self-proclaimed "Bible nerd" but maybe a nerd in general. I almost always read non-fiction with a yellow highlighter in my hand. In recent years, I've begun exploring more fiction because we should also be fun, not just informational.
I enjoy many kinds of music. I am a ballad girl to the core! Dancing to upbeat music is fun but, if I'm choosing to sing and/or play something, it will almost always be at a medium to slow tempo. As a child, I wanted to either be a country singer (think Wynonna Judd) or the next Whitney Houston. But, I get to just be me! Playing my piano and singing is a way of release and a tool that the Lord uses to get me out of my own head quite often.
What is something that "fuels" your soul?
Coffee. Can the answer be coffee?
All joking aside, I've had a dedicated morning quiet time practice that I call "Coffee with God." I like to wake before others in my home and connect with my Creator. This looks different in different seasons but always includes prayer, time in Scripture, and a good cup of joe.
I also enjoy hiking and paddle boarding. I'm not much of an outdoors person actually (give me a hotel over a tent any day) but I love these two outdoors activities. They are a way for me to step away from technology and be more mindful of the beauty in the ordinary.
Finally, games with the fam! Our family is incredibly competitive. In fact, we had to ban the game "Catch Phrase" for a while because the little disk was being passed too violently. It's fun to see people's personalities. Our children are funny people! No other group of people make me laugh until I cry.
---
Do you see it? Misty is a warm, wise, and witty person.
We encourage you to reach out and contact Misty. Introduce yourself! She is eager to meet WRIM's friends and partners. You are also invited to a Virtual Reception on Wednesday, October 25th from 7 PM to 7:30 PM CENTRAL so that we can introduce you to her and enjoy some fellowship together!
Contact us for the Reception Zoom link to drop in, say hello, and introduce yourself!
---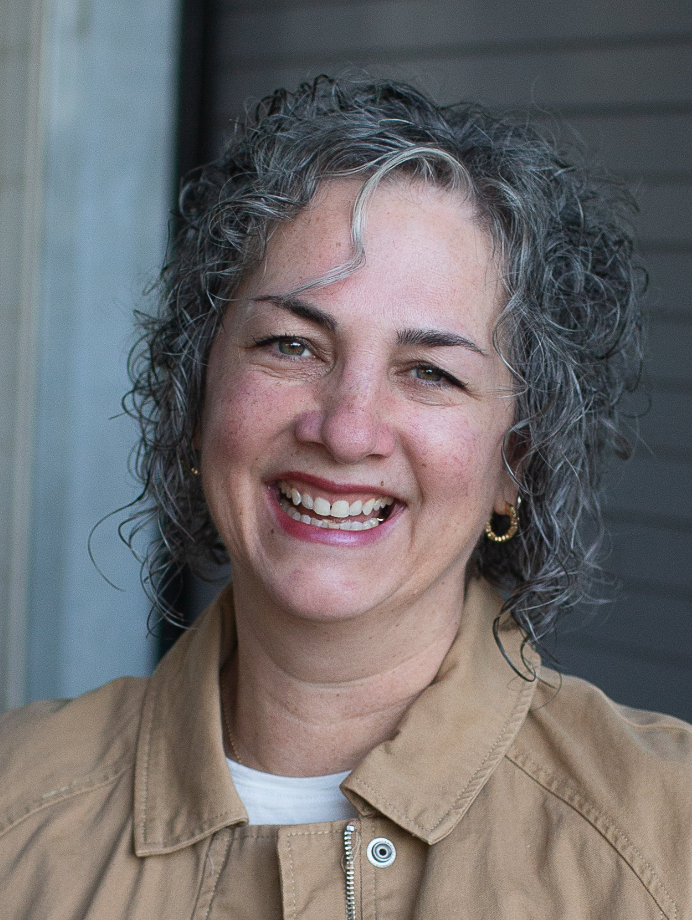 Lisa Jamieson is an author, speaker, special needs family advocate, and ordained pastoral counselor. She is co-founder of Walk Right In Ministries where she trains and counsels family caregivers to walk abundantly in life, faith, and relationships. Lisa and her husband, Larry, live in Minnesota with the youngest of their three grown daughters, Carly, who has Angelman Syndrome.